News Page
---
---

This month's news.......
Eight postgraduates from SPAT collect their PhD degreees...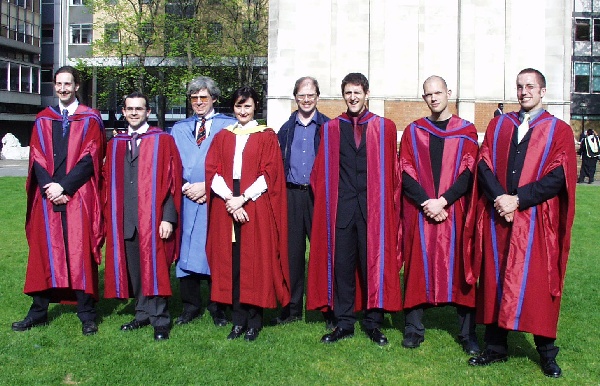 SPAT PhD graduates and supervisors: L-R, Rob Wilson, Stéphane Espinosa, Peter Cargill, Michele Dougherty, Bob Forsyth, Justin Ashmall, Dorian Clack and Matt Taylor.
At the Imperial College postgraduate graduation ceremony on 8th May 2002 we were proud to note that eight students from the group received their PhD degrees. We managed to capture five of the students and three supervisors to obtain the picture above. The full list of graduating students was Justin Ashmall, Dorian Clack, Stéphane Espinosa, Laila Gohar, Richard Goodwin, Kirsten Mitchell, Matt Taylor and Rob Wilson.
Information on the theses titles and the subsequent employment of many of these students can be found on the SPAT group thesis page. Among recent changes that we know of... Justin Ashmall has recently departed to join Dorian Clack working in the Center for Space Research at the Massachusetts Institute of Technology near Boston. Matt Taylor is soon to depart from MSSL in Surrey, heading for the even more remote location of the Los Alamos National Laboratory in New Mexico. We wish Justin and Matt and all our PhD graduates every success in their new adventures.
Bob Forsyth 8th May 2002, updated 28th May 2002

---
Peter Cargill awarded PPARC Senior Fellowship
We are pleased to congratulate Prof Peter Cargill on his award of a Senior Fellowship by PPARC, the Particle Physics and Astronomy Research Council. These prestigious fellowships are targeted at researchers with permanent academic positions to enable them to devote themselves full time to research for three years. Financially the award provides for a temporary replacement to cover Peter's teaching duties for the three years.
Peter's successful proposal was based on looking at two major scientific problems during his fellowship. The first will be to undertake a comprehensive analysis of plasmas in the cusp region of the magnetosphere using data from the 4-spacecraft Cluster mission. The Cluster mission is revolutionising our view of the Earth's magnetosphere, and understanding solar wind mass and energy transfer at the cusp is one of its principal scientific goals. The work will involve use of the Imperial College magnetic field data set, as well as complementary data sets from other institutions.
The second project will address methods for identifying the process(es) responsible for existence of the solar corona through forward modelling. By predicting the obervable signatures of coronal heating models, one can put strong constraints on the heating process. This work relates to major UK participation in both present (SOHO) and especially future (Solar-B) missions to study the Sun.
We wish Peter a sucessful and productive time during his fellowship tenure.
Further details of PPARC's fellowsip schemes can be found on the PPARC website.
Bob Forsyth 27th May 2002

---
SPAT members attend UGAMP conference
From 10-12 April six group members attended this year's UGAMP (Universities Global Atmospheric Modelling Programme) conference in the pleasant surroundings of Queens' College, Cambridge. There were over a hundred participants, and a number of talks and posters presented work which is currently being carried out within SPAT.
On the first day Wenyi Zhong spoke about a new parameterisation developed from line-by-line calculations for water vapour absorption, which reduces the errors that are found in broadband schemes and should lead to an improvement in quantifying the radiative forcing due to stratospheric water vapour.
In the session on Climate Processes and Predictability there were two more talks by group members. Jo Haigh presented work on the detection of solar and volcanic signals in a range of climate data sets, including results obtained by three undergraduate students who have recently worked on projects in the group.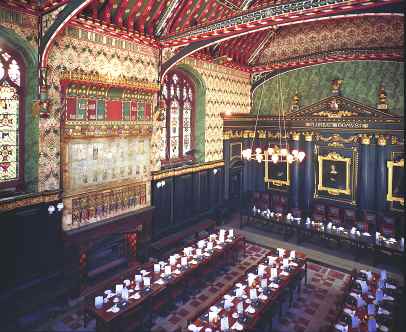 Natasha Trasi spoke about the importance of three-dimensional effects in modelling the interaction of radiation with clouds, and showed results from a radiation transport code called EVENT. This work is being done in collaboration with the Computational Physics and Geophysics group at Imperial College, who have developed this model which uses a finite element-spherical harmonics method. Peter Cook is also working with this model and presented a poster showing studies of the dependence of albedo on cloud structure and solar angle. Mihaela Caian also displayed a poster on modelling the radiative and dynamical responses of the atmosphere to volcanic aerosol.
As well as hearing talks on a wide range of topics related to atmospheric modelling there was the opportunity to explore Cambridge (while trying to dodge the numerous bicycles in the narrow streets!), and one highlight was the conference dinner which was held in the beautiful medieval Old Hall (see picture) at Queens.
Natasha Trasi 23rd April 2002

---
View March's news, older news or return to Space and Atmospheric Physics home page
---

Revised 28th May 2002
Maintained by R. J. Forsyth